Digital concerts 2020
'When the lockdown came in March 2020 due to the covid-19 situation, lots of concerts, confirmed and planned, were cancelled or postponed. But new possibilities also occurred quite fast: In Oslo, the venue and cultural house Sentralen, owned by The DNB Savings Bank Foundation, pretty soon established itself as the place for digital concerts, a part from the many home-made concert streams.
The first digital concert I recorded at Sentralen in March 2020 was a duo concert with classical violinist Catharina Chen in the series Koronerulling: This concert got a lot of attention on social media, and was later screened at NRK, the Norwegian Broadcasting Company. I also recorded another duo with violin: With Atle Sponberg as a part of Dextra Musica's Quarantine Classics at Sentralen.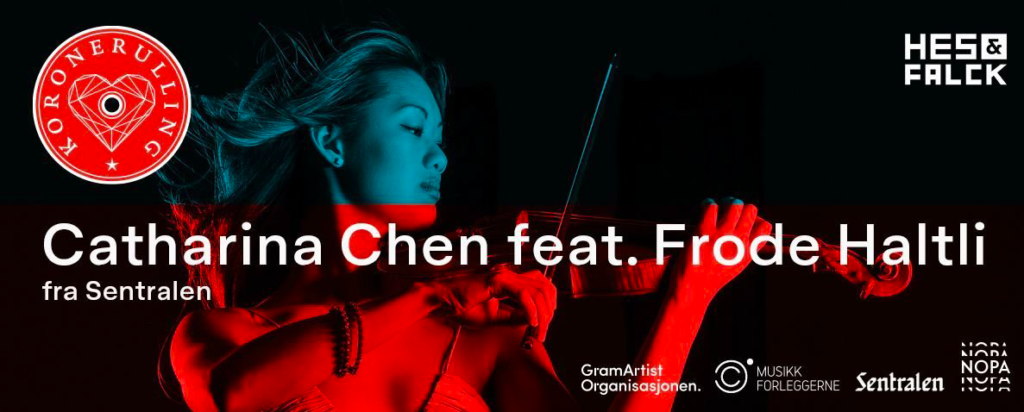 During March and April 2020 I did several concerts for Koronerulling at Sentralen: A portrait concert of composer Maja S.K. Ratkje with POING, where we did two trio pieces: 'Rondo-Bastard-Overture-Explosion' and 'essential extensions', Rolf-Erik Nystrøm played 'ØX' for saxophone and electronics, Håkon Thelin did a solo bass piece as well as a duo with Maja, and I premiered the big solo accordion piece 'Dismantled Pipes' (2020). I also performed with Håkon Kornstad Trio in the same series, a program of opera repertoire mixed with jazz and improvisations, with Mats Eilertsen on the double bass and Håkon Kornstad both singing opera and playing the saxophone – a double tenor there..

Among the more special projects that would never happen without the lockdown situation, were Jo Strømgren Kompani's Corona sessions. On April 15th I met the dancers Terje Tjøme Mossige and Cecilie Lindeman Steen for the first time ever. We made two separate and totally unprepared duo performances in front of cameras in the dance studio at Sentralen.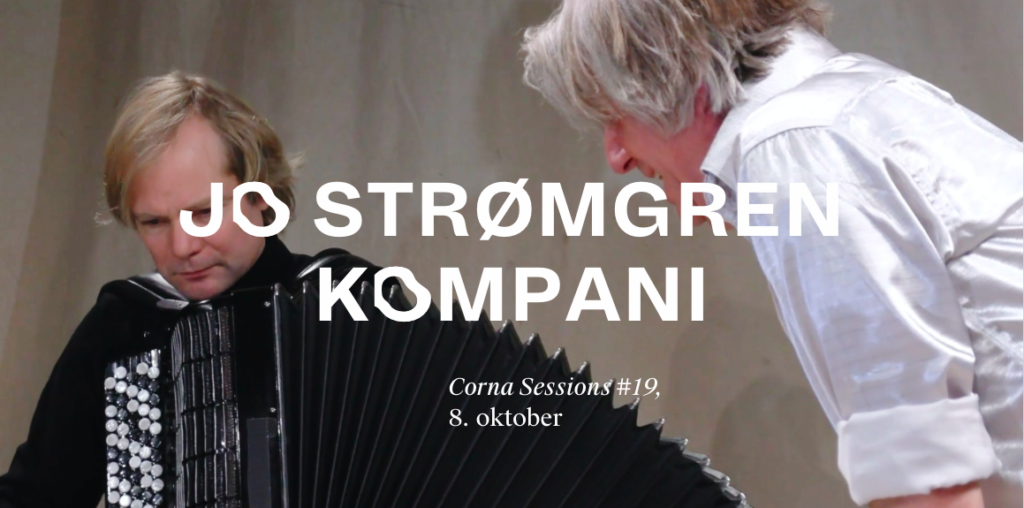 Another special and very nice project to do, was the live stream we did with our family orchestra Blåbærtoppen spelemannslag at the local cultural house Kolben. This was presented mainly for a local audience, and Maja and our two daughters Marte (11) and Frida (12) and myself performing a full concert! In December 2020 we also recorded music for the Christmas service in our local church with the same family orchestra. My eldest daughter Frida also sang a labour song with POING when we together with Maja recorded two songs for the Norwegian workers union LO's Labour Day stream – which replaced the traditional celebration on May 1st.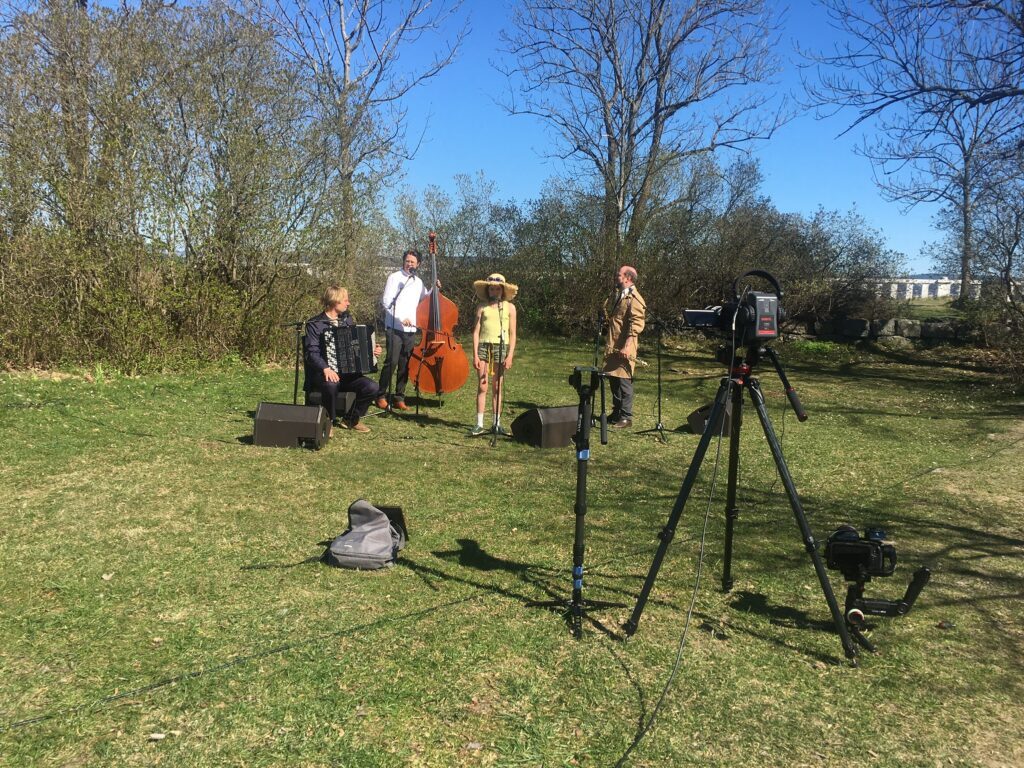 POING and Maja did our annual 'The Night Before May 1st' concert at Victoria, Nasjonal jazzscene – Norway's main jazz venue. We had worked towards a new performance based upon Brecht and Weill's 'Three-penny Opera' with writer Finn Iunker and scenographer Tormod Lindgren, but ended up presenting only excerpts of the new material on this concert. The full performance will happen next year. I also did one more concert at Victoria with Håkon Kornstad Trio.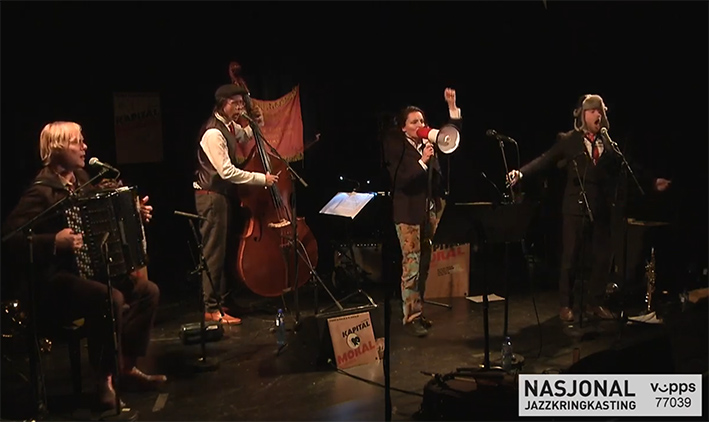 At this point, the beginning of May 2020, I felt kind of done with digital concerts in this form. In the beginning of the lockdown it felt like the best thing in the world to do – good for us musicians, good for a concert hungry audience! Most of the concerts were set almost like ordinary concerts, only without a live audience. On the two last concerts at Victoria we found renewed motivation in treating the performance as a kind of open rehearsal situation, were everything was allowed, with more internal communication on stage rather than trying to reach out to an audience we couldn't see anyway. This felt more rewarding, somehow. But the economy in this form of presenting live music did not seem sustainable, it had to come to an end. In the beginning of the lockdown it felt like there was an agreement between performers and audience, were we both helped each other out, and it was truly great to be a part of this. Some of the streamed concerts were based upon donations, but the will to donate got lower very shortly into the lockdown. And even though I had ordinary fees for most of my concerts, payed by the organisers, it didn't feel right at all that the audience was getting used to free concerts. It was starting to feel like we undermined our own business. And I think the audience also got a bit tired of digital concerts.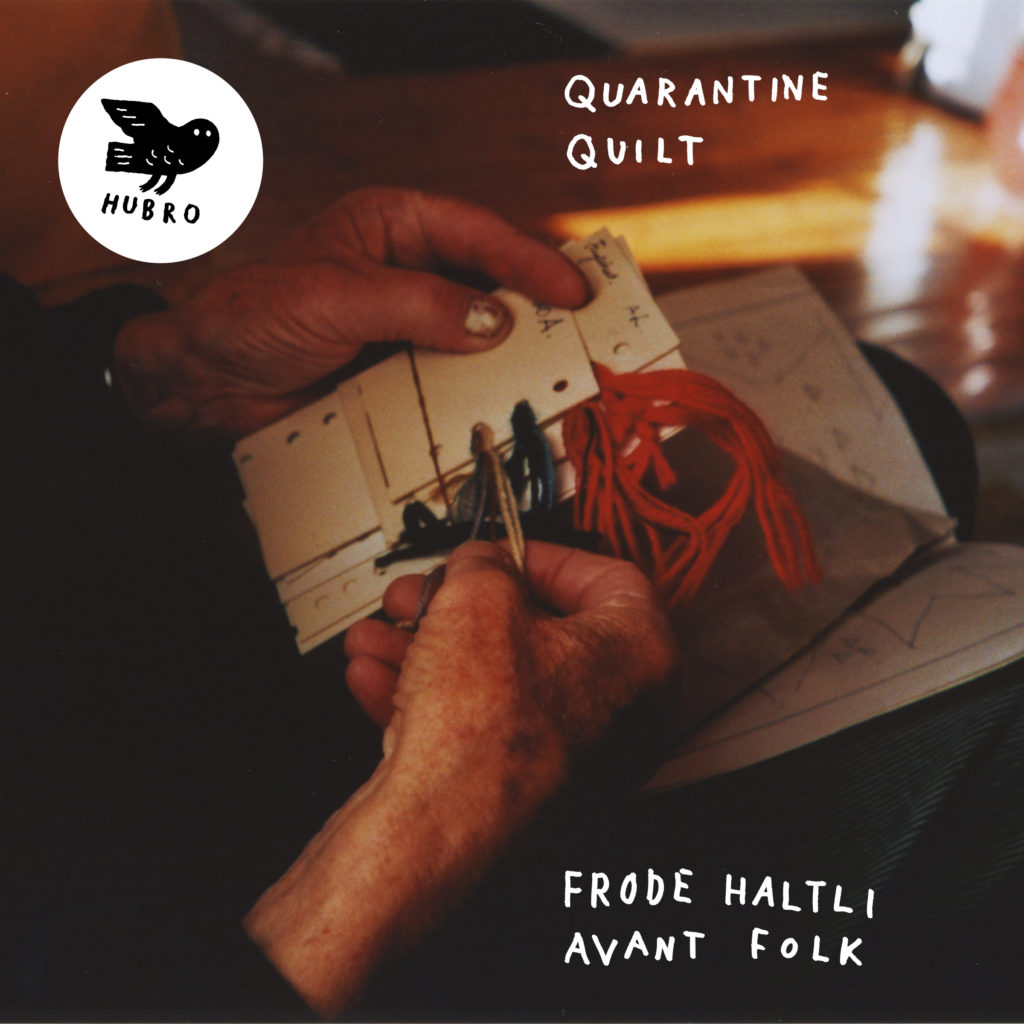 I did two corona recordings with Avant Folk during 2020, something different than the digital concerts: We had short notice cancellations of Avant Folk concerts in March, and had to postpone a scheduled studio recording. Oddrun Lilja, guitarist in Avant Folk, suggested by email that we should make an 'avant corona singel', using our home studios. This idea would probably never have come from myself, but some of the other musicians responded positively immediately. The result – recorded in 10 different home studios – became the music video and single release Quarantine Quilt.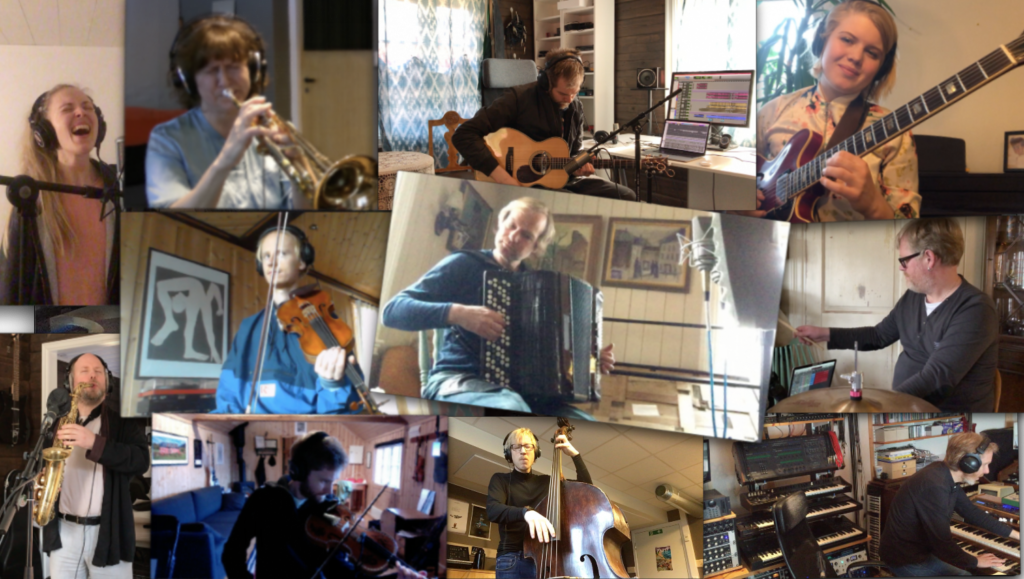 On November 29th we were scheduled to perform at the main stage of the Norwegian Opera with Helga Myhr as a guest in the band. When the concert was cancelled on short notice, we decided to record and film St. Morten – a traditional Christmas song from her home village. This time most of us gathered in our local church here at Svartskog to do the recording, with added contributions from Ståle Storløkken and Hildegunn Øiseth who both live in Trondheim. The music was also released on all digital music services by Hubro.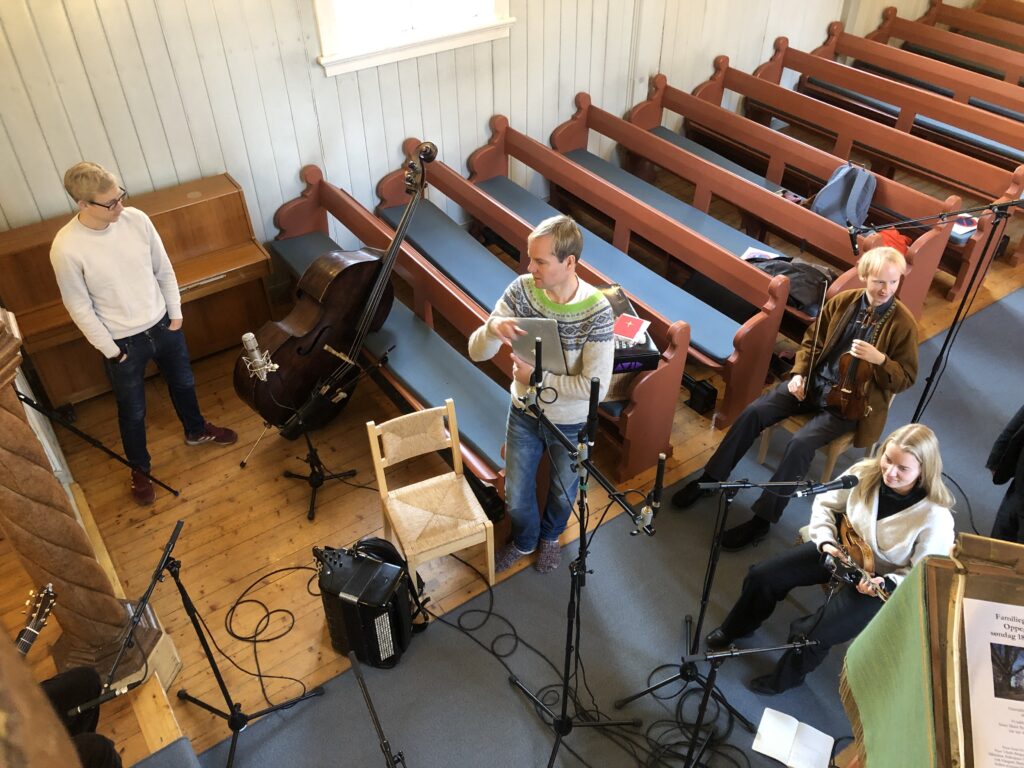 I should also mention the solo recording project I did in the same church in May/June 2020: Selected Solo Works, Vol. 1-3. This was a real DIY project and became a triple release on our own family-run label Svartskog Music Productions. We released the music in September 2020 exclusively on Bandcamp, the albums got good reviews and received lots of attention for this new way of both recording and releasing music. I talked about the whole process in interviews in Frankfurter Allgemeine Zeitung, in Norwegian radio and the Norwegian music web magazine Ballade.

When concerts were allowed again during the summer and autumn of 2020, lots of them were streamed since the capacity was limited by regulations. Among these streamed concerts were the early morning concert at Molde Jazz with Erlend Apneseth Trio, and two concerts from Oslo World in October. For the opening concert at Oslo World, Trygve Seim played duo, but we also did a trio section with duduk player Haïg Sarikouyoumdjian who appeared on a screen behind us, as international travels was very difficult at this time. The other concert I played at the festival – Sigurd Hole's new work 'Roraima' – was streamed live from Kulturkirken Jakob.
A few international concerts were replaced by streamed concerts – like the concert with Trygve Seim Ensemble, recorded at Victoria in Oslo for Skopje Jazz Festival.
Lots of other events were streamed, some of them for a limited audience. I played with Catharina Chen on a conference, with Håkon Kornstad Trio on a prize award. I participated in Kathy Hinde's wonderful Lockdown Vexations, and other lockdown projects like Kristoffer Alberts and Lasse Marhaug's Lock Down Block Ensemble.
With Catharina Chen I also played for The Norwegian Chamber Orchstra's Christmas digital music calendar! Another digital event with this orchestra was the premiere of a filmed concert with Håkon Kornstad Trio and The Norwegian Chamber Orchestra. Some other streams never happened, like one I recorded in Oslo where the technician messed up the whole recording… But luckily the other streamed concerts I did was highly professional executed, often with the guys in Millimedia in control of cameras and streaming.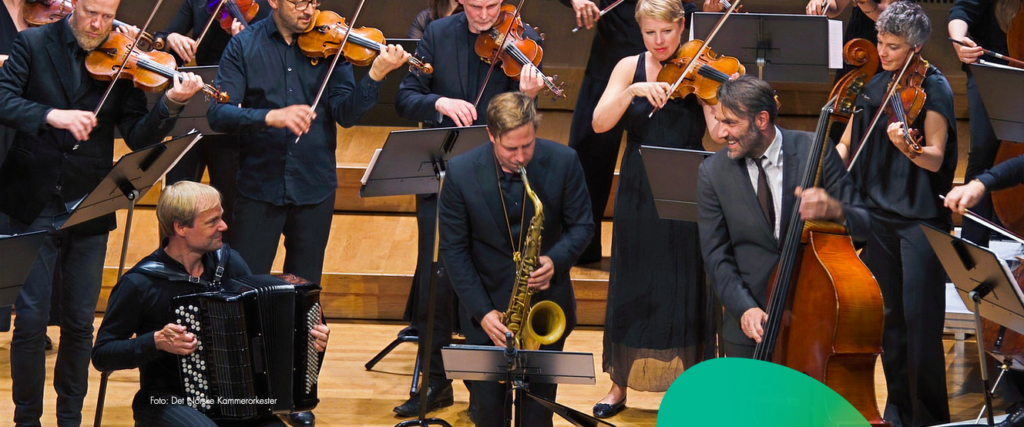 The same organisers that stood behind Koronerulling in the beginning of the lockdown in March, searched for more sustainable solutions: Already in the end of April a digital jazz festival was recorded, where I played in Trygve Seim 'Rumi Songs'. These concerts were sold to different festivals who again offered them for a ticket to their regional audience. With two rounds in the US presented by the Big Ears Festival, and a presentation in Germany, Austria and Switzerland by Munin Live, parts of the festival has also been sold to and presented at NRK, the Norwegian broadcasting.
After 'Jazz fra Sentralen' comes 'Folk fra Sentralen' – a similar concept were I will record with a quintet version of Avant Folk now in December. Time will show where and how this will be distributed, in Norway and internationally.
What a year! The experiences described above will probably lead to changes in the way we present music. But I believe it also made us aware that the intimate, non-streamed concert, presented only for the attending public, is an experience which hopefully will be even more appreciated in the future.