Nordheim album ahead!
In November 2012 I will release an album with the Norwegian composer Arne Nordheim's (1931-2010) works for the accordion. I started to perform his music in my early teens, and I worked with him on several occasions on these classic Scandinavian works for accordion. It is about time that they are collected on one album, and I believe it can be interesting with new recordings, most of the works are only recorded in the 70s and not available.
I have recorded the concerto 'Spur' (1975) with KORK (The Norwegian Radio Orchestra) and conductor Christian Eggen. I regard this work as one of the main works for accordion and orchestra.
For the trio piece 'Signals' (1967) I have chosen a quite original line-up: Finnish-American guitar player Raoul Björkenheim plays the electric guitar part, and Hans-Kristian Kjos Sørensen the percussion. Raoul is a true electric guitar player with background from jazz and rock, and it felt really good to do this piece with him. Hans-Kristian also knows how to beat those drums. 'Signals' is a fun, energetic piece to do – just perfect with these guys!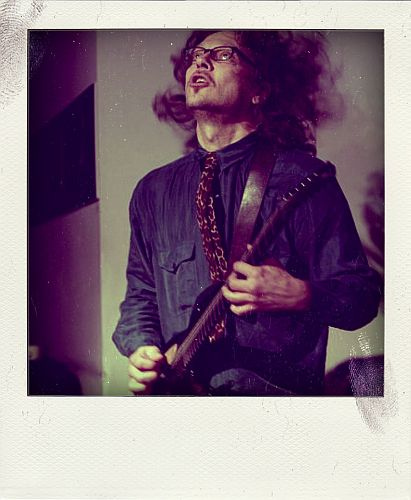 Two solo pieces are also on the album: 'DINOSAUROS' (1971) for accordion and tape, where I actually play in duo with a 40 year old electronic treated accordion part played by the Danish accordion player Mogens Ellegaard (1935-1995), who commissioned all these works. All though the tape part is the same every time, it feels and sounds like live-electronics, with a tape part that is close to the accordion part, experimenting in different electronic sound treatments.
'Flashing' (1986) is based on the solo cadenza from 'Spur', but it's not identical, and I anyway wanted to record the solo piece on the same album as `Spur' to show the big potential for interpretation in Nordheim's music. Here in Norway Arne Nordheim was a well-known public figure and by 'the man in the street' he was the symbol of musical modernism. But in fact his scores are very often open for a lot of personal interpretation. The music it self goes from very simple ideas based on a childish humor to more lyrical parts. The lyrical side was more and more prominent in his later years.
All music is recorded in The Norwegian Broadcasting's Store Studio here in Oslo. The album is produced by Geoff Miles, and Simax Classics will release the album. Simax has a good catalogue with a lot of Nordheim's music in it, and their records are internationally distributed, so I think this music will reach the ones who are interested!
The international release of the album will be at the Huddersfield Contamporary Music Festival (UK) where I will perform 'Spur' with the BBC Scottisch Sympony Orchestra. The Norwegian release will probably also feature a performance of 'Spur', in November as well. More on this soon!
The Nordheim production is already recorded, but I will also contribute on some other productions that will be recorded spring and autumn 2012. For ECM I will join the recording of Gideon Lewensohn's 'Six Musicians in Search of a Home' with András Keller. For the Norwegian quality label Kirkelig Kulturverksted (KKV) I will contribute on a recording with singer Jørn Simen Øverli, alongside multi-instrumentalist Stian Carstensen and the fantastic folk singer Øyonn Groven Myren. And with POING we are recording Eivind Buene's work 'Into the Void' this autumn with The Norwegian Wind Ensemble conducted by Christian Eggen in Rainbow Studio, Oslo.