Live dates autumn 2012
More live dates for autumn 2012 are now posted in the concert section. Highlights this autumn includes several performances of Bent Sørensen's 'It is Pain Flowing Down Slowly on a White Wall' (2011) together with the Trondheim Soloists and the Telemark Chamber Orchestra.
My new Arne Nordheim album will be released on Simax in November, and in that occation I will perform the concerto 'Spur' (1975) with the Norwegian Broadcasting Orchestra in Oslo, as well as with the BBC Scottish Sympony Orchestra in Huddersfield, UK. The latter concert is a part of the Huddersfield Contemporary Music Festival, where I also will perform Maja Solveig Kjelstrup Ratkje's 'gagaku variations' with the Bozzini Quartet from Canada.
I'll also do several concerts during the Trondheim Chamber Music Festival, performing music by Bach, Shostakovich, Sørensen as well as modern folk music with fiddler Chris Stout, harpist Cathriona McKee and fiddler Gjermund Larsen. In October I'll do an exclusive duo concert at the Osa Festival in Voss, Norway with the great Ragnhild Furebotten from the north of Norway. In November I team up with Irish flute player Nuala Kennedy and fiddler Vegar Vårdal in the Snowflake Trio for three concerts in Norway.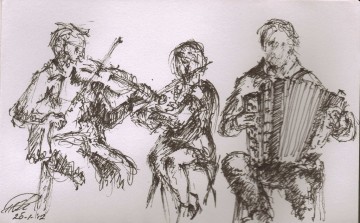 Two Bach performances this autumn: I'll do one of the Viola da gamba sonatas together with Øyvind Gimse, and I'll do the marvelous E major violin sonata with Atle Sponberg. Wonderful music that simply makes your life complete as Elvis says.
POING will do a Norwegian tour as well as some concerts with Maja Ratkje. We will also do a composition workshop in Malmö, Sweden. In october we will do a recording in Rainbow Studios of Eivind Buene's work for POING and wind band 'Into the Void' with the Norwegian Wind Orchestra, Per Oddvar Johansen and Christian Eggen. In December we will do our annual Christmas concert in Oslo with lots of guests, as well as a second concert in Gjøvik, Norway.
I just came from Calabria where I played duo with Trygve Seim at the Pecorino Jazz Festival. A wonderful experience in all ways, I always enjoy the duo concerts with Trygve! In September I will do an improvised adventure with two the duo Kiip Acoustic, students at the Norwegian Academy of Music. More details in the concert section!