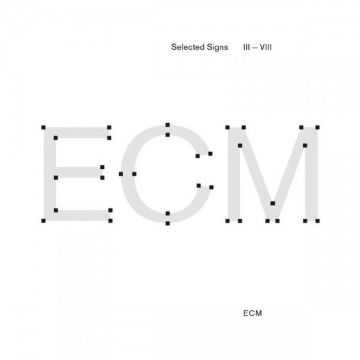 Var. artists: Selected Signs III – VIII
In the winter of 2012/13, the Haus der Kunst in Munich – one of Europe's most important museums for contemporary art – hosted the exhibition ECM – A Cultural Archaeology. The goal of curators Okwui Enwezor and Markus Müller was to show the range of the label's artistic endeavours in music, graphic art, and photography and its creative interchanges with film, theatre and literature.
For this exhibition, Manfred Eicher and Steve Lake created this box-set accentuating directions in ECM's rich musical history. Many themes and streams are touched upon here including the range of composition in the New Series, music for and from films, imaginative historical reconstructions, trans-cultural music, ambient minimalism, and jazz and improvisation of many hues, in a collection with a playing time of more than seven hours.
Frode Haltli is represented with the track 'Psalm' from his 'Passing Images' album, released on ECM in 2007.
Release details:
ECM 2350-55
Released 2013
Credits/Lineup
Featuring: Heiner Goebbels, Steve Reich, Arvo Pärt, Gidon Kremer, Keith Jarrett, György Kurtág, Tigran Mansurian, Rosamunde Quartet, Betty Olivero, Kim Kashkashian, Meredith Monk, Giya Kancheli, Keller Quartet, Hilliard Ensemble, Valentin Silvestrov, Eleni Karaindrou, Jan Garbarek, Jon Balke and Amina Alaoui, Rolf Lislevand, Nils Petter Molvær, Eivind Aarset, Stefano Battaglia, Tord Gustavsen, Egberto Gismonti, Norma Winstone, Ralph Alessi, Anja Lechner, Vassilis Tsabropoulos, Colin Vallon, Christian Wallumrød, Tomasz Stanko, Jimmy Giuffre, Paul Bley, Evan Parker, Barre Phillips, Robin Williamson, Old & New Dreams, Sinikka Langeland, Frode Haltli, Gary Peacock, Steve Kuhn, Wadada Leo Smith and many others.
Buy this release: