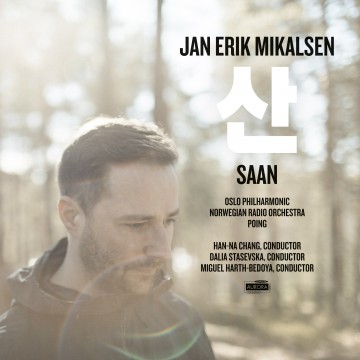 Jan Erik Mikalsen: Saan
Jan Erik Mikalsen, one of the hot new names in contemporary music, presents three impressive orchestral works with his new album, interpreted by Oslo Philharmonic, POING and Norwegian Radio Orchestra. The release depicts Mikalsen with orchestral music characterised by rich textures and that Nordic timbre. A unified musical vision with an almost maximalist utilisation of big climaxes, and harmonic structures distorted by Mikalsen's masterful touch.
The work 'Saan 산' (28 min.) was commissioned by Oslo Philharmonic Orchestra and had it's world premiere the 12th of January 2017 by the ensemble POING and the Oslo Philharmonic Orchestra.
This recording was nominated for Spellemannsprisen 2017, the 'Norwegian Grammy'.

Release details: