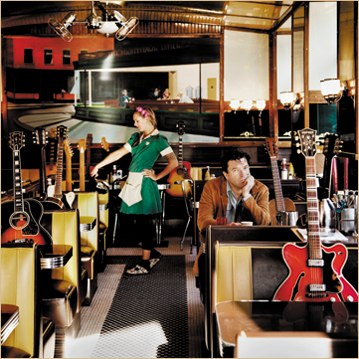 Ian Senior: Twelwe Guitars
'Twelwe Guitars' is inspired by the 1961 Shirelles song 'Baby It's You', written by Burt Bacharach, Luther Dixon and Mack David. Short, tender and yearning, what jumps out at the listener is the enormously naive solo: a quick burst of tinny organ, played almost with one finger, turned up real loud in the mix. Gone in a few seconds, but leaving behind echoes of innocence and playfulness. The idea took form to make a record that seized upon these emotions: twelve songs, twelve guitars, twelve solos.
Ian has a bunch of guitars, gathered here and there, fixed up and cared for. Every guitar has a song in it, so he wrote one each for twelve different guitars and recorded them live with upright bass and drums for company. In every tune the trio left a hole for a solo and then Ian went around with a microphone, a pair of headphones and a handheld recorder and found twelve different musicians to plug those holes. Every musician was give free reign to do exactly what they wanted in the time they were given, the only rules being; no overdubs, no fixing, just straight to tape. The result is stripped down and straightforward, live and direct, the expression of 15 musicians having a good time.

Release details: