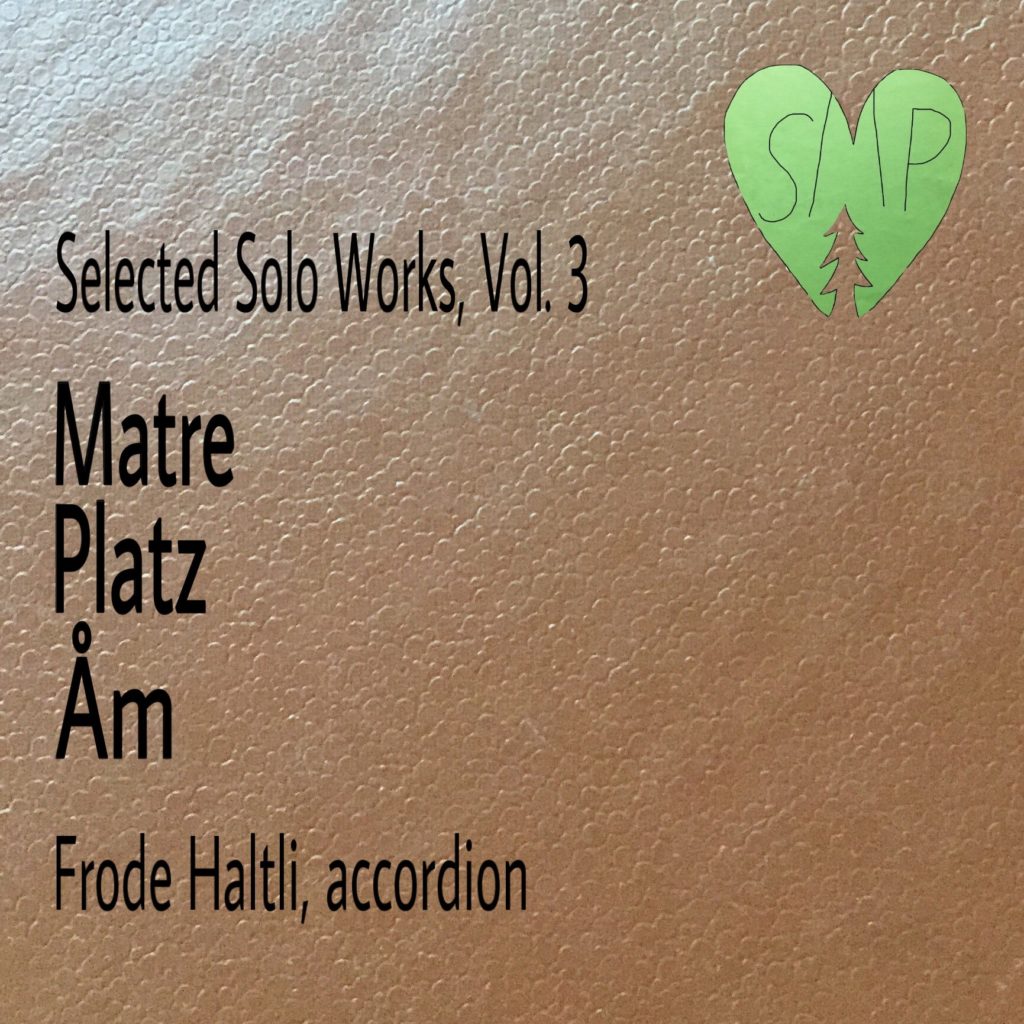 Frode Haltli: Selected Solo Works, Vol. 3
In May 2020 I started a recording project. The idea was to use this open calendar period to freshen up, rehearse and tape some not often heard solo pieces, most of them never recorded before. After a couple weeks of preparing, I got the key to our local church, set up a stereo pair of Neumann microphones, and started recording. On this third volume I have recorded three standout pieces which I have performed frequently at solo concerts the last decade or two.
In 2012 I premiered 'Nephilim Song' by the Norwegian composer Ørjan Matre (b. 1979) at the Wittener Tage für Neue Kammermusik, the German festival that commissioned the piece. The piece is virtuoso, with a clear form of almost classic dimensions. The composer explains in the program comment that a Nephilim is a mysterious term that are mentioned twice in the Bible, one of them being in the first Genesis 6:4: 'The Nephilim were on the earth in those days. and also afterward, when the sons of God went to the daughters of men and had children by them. They were the heroes of old, men of renown.' What a Nephilim is is not explained, but several theories exist. One of them is that the Nephilims actually were offsprings of angels and men, a monstrous half-breed, that eventually leads God to flood the earth to remove all traces of them. Nephilim Song uses two types of material, an ethereal, soft material in the extremely high register of the accordion, and a rougher, rhythmical material, but of course also the monstrous half-breed between them.
The German composer Robert HP Platz (b. 1951) composed 'senko-hana-bi (In Yoshitake's Garden)' in 1997 for shō – the ancient Japanese mouth organ. The version for accordion was premiered the year after. A beautiful musical miniature, inspired by the traditional Japanese mini firework 'senko-hana-bi', which is said to bring the watcher into a state of silence and mono no aware – a gentle sadness when reminded the beauty and briefness of life.
Magnar Åm (b. 1952) composed 'Ved bredden av det evige sekund' ('On the Banks of the Eternal Second') for the accordionist Geir Draugsvoll in 1995. I studied with Geir Draugsvoll and James Crabb in Copenhagen in 96/97 and again in 1998-2000. Norwegian composer Magnar Åm combines minimalistic simplicity with the complex in a constant search of spirituality in music. He has made a statement saying he regards himself a time witness, like every human being: 'And this music is the sound of one such witness' maturation, its constant widening understanding of existence. This witness transforms its impressions of being in the world to an expression which it feels the world, including itself, right now needs.'

Release details: